Solosport Brands UK Distributors of top quality swimwear brand arena and Toko ski and snowboard care.
Unit 2B, Toll Bar, Cumbria , LA10 5HA
News
Bespoke cricket sweaters made to order; bowls knitwear; golf sweaters; club, school, corporate and promotional sweaters; country knitwear.
Rannerdale , Cockermouth, , PO Box 84 , CA13 3AT
Solosports Brands UK, Distributors of top quality brands arena swimwear, Toko winter care, Mission Towels and Comfyballs underwear.
Unit 2B, Toll BAr, Cumbria , LA10 5HA
News
Quality Teamwear Supplier offering both made to order and stock product options for clubs and retail outlets. Variety of sports.
McCarthys Business Centre
News
Insight Update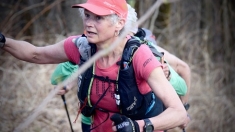 Nicky Spinks has spoken of the extreme challenges faced by runners in this year's Barkley Marathons – a race which no-one finished for a second successive year.
read article
20 April - 06 May , Sheffield
April 21 - 28 , Budapest, Hungary
April 24 , Monchenglabach