We love tape, and started with it - we didn't invent it, its been around a long time we believed we could create a range that was funky, fashionable and in a retail savy manner something that real people could afford and enjoy. Join us on our journey and be part of something exciting, inspiring and lots of fun.
71-75 Shelton Street, Covent Garden, Co London , WC2H97Q
News
Outdoor, sports and PPE distributor of premium brands including; Woolpower, Protos, Veriga and Pfanner. Specialists in quality merino base layers.
Unit 2, Sydney Place, Dumfriesshire , DG11 2JA
News
It's your world. How you run it is up to you. Saucony. Run Your World.
Kings Place, 90 York Way, Co London , N1 9AG
News
Insight Update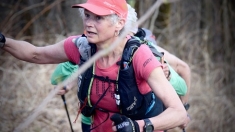 Nicky Spinks has spoken of the extreme challenges faced by runners in this year's Barkley Marathons – a race which no-one finished for a second successive year.
read article
20 April - 06 May , Sheffield