A stock supported range of unbranded performance Team and Trainingwear garments, Brand quality, without The Brand. Ideal for all Team/School sports and associations
Unit F, Atlantic Street, Broadheath, Cheshire , WA14 5FY
Distributors and agents of products for many sporting and outdoor pursuits, specialising in the trail and off-road market
22 Whalesborough Parc, Bude, Cornwall , EX23 8GB
OS1st Brace Layer System - Sports supports using our Patented COMPRESSION ZONE TECHNOLOGY, providing support and recovery before, during and after sport.
Unit A1, Moorside Business Park, Essex , CO1 2ZF
Koolpak are recognised as the UK's leading manufacturer and supplier of First Aid & Sports Injury products and our brand name is the market leader in these areas.
Unit 5, Sterte Industrial Estate, Dorset , BH15 2AF
Built for athletes, the Mission Enduracool Towel works when a series of hollow core fibers are infused with water. These light weight chemical-free pathways command the rate of evaporation to power you with an instant, prolonged cooling effect.
Unit 2B, Toll Bar, Cumbria , LA10 5HA
News
Insight Update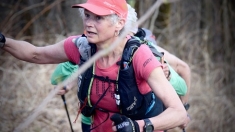 Nicky Spinks has spoken of the extreme challenges faced by runners in this year's Barkley Marathons – a race which no-one finished for a second successive year.
read article
20 April - 06 May , Sheffield
April 21 - 28 , Budapest, Hungary
April 24 , Monchenglabach
AFH House, Bruntsford Drive, Bromsgrove , B60 4JE
view profile