At Ashaway, the commitment to the advancement of racket sport technology is absolute.
25 Brownfields, Welwyn Garden City , AL7 1AN
Black Knight was founded in Vancouver in 1976, by racquet sport enthusiasts.
25 Brownfields, Welwyn Garden City , AL7 1AN
Premium Badminton brand supplying Rackets, Luggage, Shuttlecocks and Accessories to the Sports and Education Market. Contact us for more details.
Office A2, Lingfield House, Lingfield Point, DurhamDurham , DL3 8LF
Cartasport celebrating its 40th year anniversary stock over 4500 lines of equipment, clothing, footwear and accessories for over 40 sports.
Goulbourne House, Goulbourne Street, Yorkshire , BD21 1PG
High performance compression clothing dedicated to racket sports, utilising the latest manufacturing technologies to produce the highest quality garments.
Unit 6 Trade City, Brooklands Close, Middlesex , TW16 7FD
News
25 Brownfields, Welwyn Garden City , AL7 1AN
Founded in 1992, MTS Sport are one of Europe's leading suppliers of Sport and Leisure equipment through our Own Brands, Donic-Schildkrot Table Tennis, Schildkrot Fun Sports, Schildkrot Fitness and Talbot Torro Badminton.
MTS Sport, Hans-Urmiller-Ring 11, Co London , Wolfratshausen
News
Reydon Sports PLC is the UK's largest sports distribution company, supplying the full spectrum of sports/leisure products across the UK
Reydon Sports PLC, Birch Park, Giltbrook, Nottinghamshire , Nottingham
News
#MadeInBritain extensive range of portable sports net systems & specialist coaching equipment. Lawn Tennis Association supplier. Trade accounts welcome.
Unit 7, Chadkirk Business Park, Romiley, Stockport, Cheshire SK6 7GY
Insight Update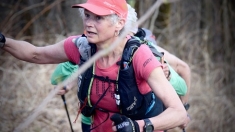 Nicky Spinks has spoken of the extreme challenges faced by runners in this year's Barkley Marathons – a race which no-one finished for a second successive year.
read article
20 April - 06 May , Sheffield
April 21 - 28 , Budapest, Hungary
April 24 , Monchenglabach