SpiderTech Kinesiology Tape is easy to apply, drug free and lasts up to five days. Whether you're out for a run or in the gym, SpiderTech tape will keep you in the game.
Nunn Brook Road, Huthwaite, Sutton-in-Ashfield , NG17 2HU
Insight Update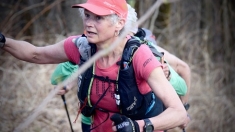 Nicky Spinks has spoken of the extreme challenges faced by runners in this year's Barkley Marathons – a race which no-one finished for a second successive year.
read article
20 April - 06 May , Sheffield